When we started on the faceOff project we were determined to design and build the world's best sports face protector. We think we have (and the players are beginning to see this as well.)
When it came to assembling the marketing support material, in particular the web site, we contacted the boys at Fracture. This committed and clever group of young New Zealanders designed and built the OBO web site (which went on to win "Gold" in the New Zealand BEST awards.)
There are approximately 110 million web sites in the world. There is a industry based company that organises an awards system for the web industry cleverly called "favourite web site awards"
Sites from all over the world are judged and each day a web site of the day award is made. Usually really big brands win these wards as they have almost unlimited resources to throw at their sites.
On April 24
th
the faceOff web site won this award !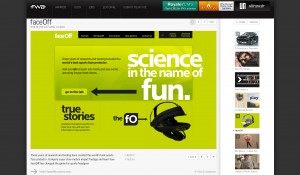 Congratulations to Fracture… Amazing job guys.
Hard work, commitment, creativity, thoughtfulness and a passion to a great job for faceOff won over the huge budget.
To the rest of us, we should all go forth to the market knowing that yet again OBO and faceOff are being recognised as being leaders on the world stage.
Please visit http://www.thefwa.com/site/faceoff for more details and see some of the sites faceOff was up against.