Many thanks to solubleduck who asked what sort of training and preparation is needs for the Commonwealth Games.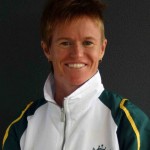 Well solubleduck, due to the Commonweatlh Games being directly after the World Cup in Argentina most of our preparation is focused around the World Cup which will lead us nicely into the Commonwealth Games.  Currently the Hockeyroos are on tour in Europe. This tour will include focused training sessions and also extra fitness work. As we get closer to the competition trainings will be tailored to more game scenario drills.
Our normal week includes roughly 6 on field sessions as well as a number of strength and conditioning sessions followed by recovery sessions each week.
Teams are always looking at ways to stay on top and ahead of the others. The world of women's international competition is fiercely competitive these days. Teams need to be fit and resilient to be competitive.
Hope that goes someway to answer your question solubleduck.
Please keep the questions coming.
Cheers
Toni Cronk